Testimonials
What Our Customers Are Saying
Over our 40+ years in this business, we have received many lovely letters and testimonials from our customers.
THIS CLEVER THANK YOU comes from Gerry in Quebec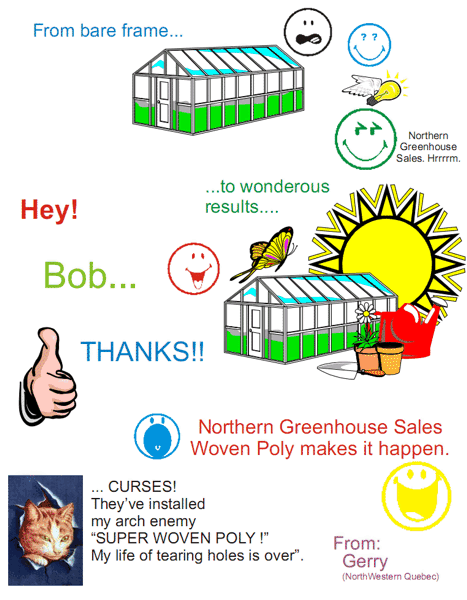 This clever and creative thank-you from Gerry in Quebec
...CURSES! They've installed my arch enemy "SUPER WOVEN POLY!" My life of tearing holes is over.
Gerry of Quebec, Canada
HURRICANE ANDREW MEETS HIS MATCH!
"My acquaintance and friend N. M. ordered fabric from you 7 or so years ago. Your fabric on his greenhouse, when the fabric was 4 or 5 years old, went through Hurricane Andrew, no problem. Anyway, I think I want to copy his design and use the same fabric."
Glenn of Louisiana
"Our greenhouse...is heated by the sun and...horse manure... and covered with your woven poly...It's unbelievably strong. I can walk on the roof of our greenhouse. (I weigh about 180 lbs.) When we were putting the plastic on the greenhouse we got it crooked in on place and had to move it. We were using half inch T50 staples and I thought I'd tear the plastic off over them. When I pulled up the plastic it pulled staples out of the wood!" (Memo from Bob: it's best to use staples or nails WITH lath, polyfastener, or cinchstrap, not by themselves.)
Mr. Thompson continues, "Another very, very impressive feature of the stuff is the way it scatters light. On a cloudy day I noticed my eyes adjust as I walked into the greenhouse. It's a lot brighter inside. But yet on a sunny day the plants didn't get burned by direct sun. I realize you said that in your catalog but I didn't fully understand or appreciate the fact until I saw it happen. The stuff is worth raving about...one friend of ours wants very much to make a greenhouse after seeing ours. We gave them samples of your plastic and catalog...its great stuff. It's strong, durable, lightweight, and easy to work with..."
Mr. Thompson of Indiana
OUR SUPERSTRONG WOVEN POLY OUTLIVES GREENHOUSE FRAME IN FLORIDA HURRICANE.
In January 1994, Paul. F phoned to say that they had gone through a hurricane that destroyed their greenhouse but that our superstrong woven poly survived the destruction of the frame and stayed in one piece, so they built a new greenhouse and attached their used superstrong woven poly onto it. He told me that they put out the poly onto the greenhouse on the 4th of July 1990, so it was over three years old at the time of the storm.
Paul F. of Florida
DOROTHY'S GREENHOUSE SURVIVES 100 mph RHODE ISLAND HURRICANE
"Hi Bob & Margaret, I'm writing to tell you that my greenhouse came through the winter with flying colors. We had a hurricane in late August and your polyweave stood up to 100 miles an hour! Also, my male cat Topsy has been climbing on top and sleeping there.... I am very pleased with it...Send me a flyer every now and then...in case someone wants the poly - I can give them your address. With many thanks..."
Dorothy N. of Rhode Island
"Bob's superstrong plastic is exactly was I have been looking for...I (originally) used 6 mil construction plastic on the greenhouse. Within 2 weeks I had two tears from birds flying into it and numerous holes & snags from cats and kids... (Then) we found a grower who sold use white greenhouse plastic. (Their) white plastic didn't last much longer than the clear stuff & it has about 4 patches in it now. Your plastic is perfect - a dream come true!
Maybe this year I can spend more time planting and less time patching."
L.E. of Ontario, Canada
KELLY USES POLY TO LINE WATER TANK.
"Your poly along with others has been sitting in water for over 2 years; the others rotted or separated and yours is as good as the day we inserted it; WELL DONE."
B.K. of British Columbia, Canada
MARKET GARDENER PREFERS REBAR GREENHOUSE OVER COMMERCIAL ONE
In November of 1995, Doug wrote us saying: "I am going to be building a rebar greenhouse to use to start plants for our organic market garden business next spring......A friend of ours recommended your polyweave and rebar design. She has been running a small organic market garden specializing in greens to restaurants. Her first greenhouse was a rebar home-built job. She then got fancy and bought a $6000 pre-fab unit which she says is "garbage" and not worth the price! ... Anyway, loved your 'folksy' catalog and look forward to hearing from you soon."
Doug S. of Ontario, Canada
OUR POLY COMPARED TO ANOTHER POLY ON CALIFORNIA GEODESIC DOME
"After 4 years of exposure to the sun and heat of the Sacramento Valley, I am recovering sections of my greenhouse (but only the parts that get direct sun). Another tribute to the durability of your plastic came during a hailstorm a few months back. I had used another type of plastic in the part of the greenhouse because it is clear, and I wanted a "window". This other plastic was 20% thicker than yours and twice as expensive. Anyhow, the hail shredded that plastic, but didn't make a single hole in yours. Since I have to replace the other stuff, I figured I'd also replace some of yours, which while it is still intact is starting to show some wear at points where it is stapled to the wooden struts. .. my greenhouse...is a slightly modified geodesic dome, about 10 feet in diameter. It is built with 2x2 redwood struts and some pretty simple hardware to connect them. ... It is based on (the) book Building and Using a Solar Heated Geodesic Greenhouse by John Fontanetta and Al Heller. .. Geodesic domes are the more efficient structures known, in terms of strength to weight and enclosing the most space with the least materials.
David Cassafer of California
THREE FEET OF QUEBEC ICE AND SNOW BEND 3" PIPES; PLASTIC HOLDS
"The pictures (sorry, no pictures) attest to the exceptional strength of the greenhouse (woven) plastic during the ice storm, which we have had here in Quebec. (3 feet of ice and snow). As can be seen the steel (3" steel pipe) and wood structural support bent and broke under the weight load of snow and ice - but not the plastic. The holes in the plastic were pierced by steel and wood, as a result of the ice weight on the structural breaking points. I do hope this will help in the attestation for the quality of woven plastics."
E.R.F of St. Didace, Quebec
HUMANE SHELTER SAVES MONEY ON HEATING AND PROTECTS THEIR ANIMALS' HEALTH USING OUR WOVEN POLY AS A WINDBREAK ON PENS AND RUNS.
"This will confirm my .. new order for 100 linear feet of 11 mil translucent ... As I mentioned, the (poly) is used as a windbreak around our exterior dog runs, and freestanding pens. It is cut into 12-foot long pieces, approximately 65 to 72 inches high. Across the top and bottom, we set hardware store grommets every 18 inches to give us fastening points. The pieces are a reasonable size for one man to handle. ... The ability of the 1993 polywrap to stand up to the weather has been very gratifying. So far (in three years' use) the sun's ultra violet rays have caused no brittleness. Except for a little more cloudiness and some edges where the dogs have chewed at it, there is a little wear and tear.
It has helped reduce our heating bills and contributed quite a lot toward keeping the animals healthy. Here in New Jersey the daily winter temperatures bounce from about 40 degrees (daytime) to 20 degrees at night. ... the society anticipates that after we get our new order we should be set for about five years of service out of the new order and two more years out of the "93 fabric"
John R. of New Jersey
PLASTIC STILL SURVIVING 10 YEARS OF WILD ALASKAN WINDS, WINTERS.
"I purchased some 'clear' woven poly over 10 years ago and am so thankful that you are still in business! I don't need to replace what I originally purchased; I need more for a different project. I have used it for row covers, windbreaks and cold frames. We live in southeast Alaska, on the coast. It has withstood harsh winds, winter temperatures to -10 degrees F, salt spray, and long hours of summer sunshine (in between copious amounts of rain). It's wonderful stuff. I'll keep spreading the news!"
Chris M. of Petersburg, Alaska
SURVIVING SIX INCH SLIPPERY SLUGS AND WILD WINTER WINDS
"Bob... this is the second time I have ordered your greenhouse plastic, the plastic lasted longer than the wooden frame did, it was destroyed in a 100-mph gale two years ago. I salvaged the plastic and will use it in raised beds in my new greenhouse. My new greenhouse is a 16' x 36' structure made with metal greenhouse bows made her locally, and metal fence posts, while not as inexpensive as your rebar design it is very strong. I first heard of your product from a friend who has bought a lot of plastic from you. Gardening on the California North Coast can be quite a challenge due to the wind, low summer temperature, and pests especially large (6") slugs that can destroy a newly planted garden overnight. Having a greenhouse is the only way to go in this area. I'll pass on the info to other folks in the area thanks."
Donald of Crescent City, CA
LIGHT TRANSMISSION GREAT
"I have experienced excellent results with your plastic poly. In fact, light transmission is so good that shading is necessary in summer."
M.R. of Fort Worth, Texas
FIVE YEARS OF "WEATHER ATTACKS" AND 17 SNOW STORMS IN FOUR MONTHS!
"Incidentally, the 9 mils poly I ordered in 1990 for my greenhouse has held up fantastic. No nicks, tears, slits, etc. and the sunlight/snow/cold temperatures don't seem to have made any inroads in deterioration; surprising after the 1993/94 winter we had when we held 17 back-to-back snowstorms from December through March ... we got buried in snow. The summer of 1994 was awful ... one of the hottest on record for New Hampshire; this year is shaping up to be a repeat of last summer! But nothing seems to phase the poly ... just hope it holds up another 5 years! Keep up the good work!"
Doreen of New Hampshire
PORTABLE POULTRY PASTURE PENS
"Last year you sent me some of your 12 mils black/silver woven poly. It has performed great in a unique (?) application. I have been raising broiler chickens in portable pens (10'x12') which move across the pasture. Normal galvanized, corrugated metal roofing was too heavy (for portable pens). Handling, cutting, and attaching were greatly simplified (over metal)."
Kurt and Maria of Beloit, KS
For more testimonials and great ideas from our customers
please visit our
customer gallery
.